Becola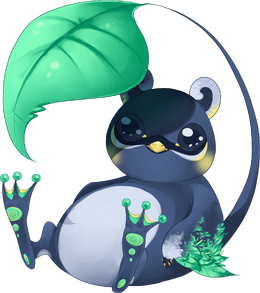 | | |
| --- | --- |
| Rarity | Common |
| Average Luck | 46 |
| | |
| --- | --- |
| Hatch Time | 15 minutes |
| Baby Energy | 60 |
| Adult Energy | 90 |
Store Price
900 Maana
150 Gold

Cuddly and affectionate, the Becola uses it's leaf as a cover when it naps. It also has suction cups on its feet, which allows it to climb anywhere.
These creatures are very domesticated and love to nap in the sun.
Obtaining
Edit
Answer the quiz from Episode 3
Available in the companion store for 900 Maana/150 Gold
Found via exploration at the Beach and Shallow Waters (City of El)
Can be purchased on the market
Food & Bait
Edit
They eat Bamboo Shoots. They can be captured in the wild using a Round Lily Pad.
Energy & Hatching
Edit
The egg hatches in 15 minutes. The energy as a baby is 60 which goes to 90 as an adult.
Evolution Requirements
Edit
Have reached level 3
Have an Affection Level of at least 60%
Must be at least 7 days old
Their adult form was shown within the demo game.
Ad blocker interference detected!
Wikia is a free-to-use site that makes money from advertising. We have a modified experience for viewers using ad blockers

Wikia is not accessible if you've made further modifications. Remove the custom ad blocker rule(s) and the page will load as expected.