Crowmero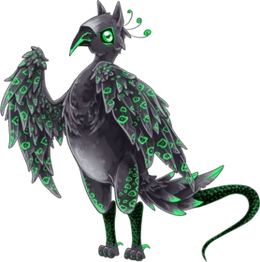 | | |
| --- | --- |
| Rarity | Common |
| Average Luck | 46 |
| | |
| --- | --- |
| Hatch Time | 90 minutes |
| Baby Energy | 50 |
| Adult Energy | 100 |

Its feathers seem to have been dipped in liquid fluorite to help identify these birds at night when they go out hunting. They can fly only short distances as their body is too heavy for their wings.
Obtaining
Edit
Available in the companion store for 200 Gold
Found via exploration at the HQ Gardens. (City of El)
Can be purchased on the market
Food & Bait
Edit
They eat Glowing Caterpillars. They can be captured in the wild using the Emerald Lantern.
Energy & Hatching
Edit
The egg hatches in 90 minutes. The energy as a baby is 50 which goes to 100 as an adult.
Evolution Requirements
Edit
Have reached level 4.
Have a Level of Affection of at least 70%.
Must be at least 15 days old.
Ad blocker interference detected!
Wikia is a free-to-use site that makes money from advertising. We have a modified experience for viewers using ad blockers

Wikia is not accessible if you've made further modifications. Remove the custom ad blocker rule(s) and the page will load as expected.