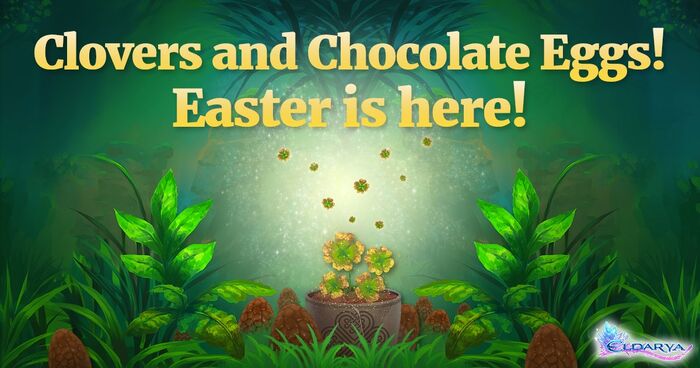 On April 14th, 2017, the main administrator of Eldarya opened a thread[1] announcing the start of the Easter event. It detailed how players could obtain equipment pieces. The event ran from April 14th to April 26th.
For every day of the event, players had to obtain four ingredients. Once they had gotten everything, the items would make three Fortuna Clovers. These clovers could be given to either Ykhar, Jamon, or Chrome. After giving a clover to one of them, a pop up would appear with an array of colors for a certain equipment piece. Once a player confirmed their choice, the character they picked would have a small bit of dialogue. The other colors of that piece would then become available in the Clothes Shop for either Maana or Gold Coins. Fortuna Clovers could also be bought for twenty gold coins.
Once all the outfit pieces were unlocked, Mery would appear. Players could give him chocolate eggs if they wanted Jeanylotte, this event's companion. In order to receive chocolate eggs, players had to send chocolate eggs to other players that were on their friends list. These eggs would then be scattered throughout the site and players had to find and click on them so that the eggs could be added to their inventory. The eggs could be bought for twenty gold coins each.
The event also had an exclusive bindle called the "Spring Feary Bindle". This bindle was available every day and the amount of items needed to obtain the bindle changed. Inside the bindle was a solitary outfit with all of its available colors and fifty Purro'Passes.
In the Clothes Shop, there were also two outfits that were from the Easter 2016 event. One outfit could be bought with Maana or Gold Coins while the other could only be exchanged for coins.
Pieces of the illustration could be found via exploration or bought with ten gold coins.
Companion
Edit
For individual pieces of each outfit, see Easter 2017 Event/Outfit Pieces.
Image
Name
How to Get
Total Price
(Maana)
Total Price
(Gold Coins)
Bells Bearer
Give Ykhar ten clovers
4410
735
Egg Artist
Give Jamon ten clovers
3690
615
Hunter Instinct
Give Chrome ten clovers
3660
610
Chocolate Bunny
Buy in the Clothes Shop
1850
262
Spring Bohemian
Buy in the Clothes Shop
N/A
765
Spring Faery
Get every piece from the Spring Faery Bindle
N/A
N/A
Other Items
Edit
Image
Name
How to get
Murphy Broken Pot
Log in
Dewdrop Peat
Win at least 7 Maana from one of the minigames
Lucky Clover Seeds
Find the "Easter Bunny" while exploring
Leprechaun Water
Make a purchase from one of the shops
Fortuna Cloves
Combine the above four items on the event page
or
Buy a clover for 20 Gold Coins
Chocolate Egg
Have your friends hide a chocolate egg for you when they run into the Easter Bunny.
(Found in various places on the site)
or
Buy an egg for 20 Gold Coins
Illustration Fragment
Can be found at any exploration location
or
Buy a fragment for 10 Gold Coins
Finding Chocolate Eggs
Edit
Terms of Service Page, link at the bottom of the page (search at the bottom or the top of the page)
Goodies page, link at the bottom of the page (search at the bottom or the top of the page)
Mini-games (on the Purro-Swap image)
Clothes Shop (on Purriry's head)
Market (on your head)
"Edit my appearance" (on your head)
Messages or Contacts (on someone's head)
Pet's page (near "My companion")
Bank (near the gold coins tab)
Ranking (reward of the month)
Library (on the pop-up when you modify your crush)
Inventory (top left)
Mini-games (Egg'Bomb page, top corner)
Spring Faery Bindle
Edit
| Image | Name | Type | Chance |
| --- | --- | --- | --- |
| | Sinead | Hair | 7% |
| | Spring Faery Top | Tops | 11% |
| | Spring Faery Dress | Dresses | 10% |
| | Spring Faery Sleeves | Hand Accessories | 13% |
| | Spring Faery Bracelets | Hand Accessories | 13% |
| | Spring Faery Flower Lamp | Hand Accessories | 8% |
| | Spring Faery Wings | Coats | 6% |
| | Spring Faery Ankle Bracelet | Socks | 11% |
| | Spring Faery Flowers | Atmospheres | 11% |
| | 50x Purro'Pass | Other | 10% |
Illustration
Edit
❝Purral entrusted me with a g-gift for you, but my companions ripped it up into 8 pieces... They surely hid them all over Eldarya. F-Find them!
I-I'm sorry...❞
The original end date for this event was April 23rd. However, due to the presence of many bugs and technical issues with no one to fix them, the date was pushed forward three days.[2]
During this time, My Candy Love, another Beemoov game, was having an Easter event as well. On the corner of that site's event page was Jeanylotte's egg. Hovering the mouse over the egg would show a Jeanylotte baby with a little bit of dialogue saying that the player could adopt them over on Eldarya.
References
Edit
↑ [EVENT- Updated] Easter is here!, Eldarya Administrator, Eldarya
↑ [EVENT][EASTER] Bug, Technical Team, Eldarya
Ad blocker interference detected!
Wikia is a free-to-use site that makes money from advertising. We have a modified experience for viewers using ad blockers

Wikia is not accessible if you've made further modifications. Remove the custom ad blocker rule(s) and the page will load as expected.