Lovigis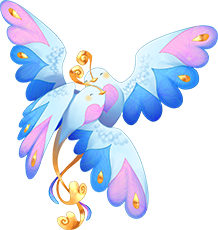 | | |
| --- | --- |
| Rarity | Event/Legendary |
| Average Luck | 332 |
| | |
| --- | --- |
| Food | Love Candies |
| Bait | N/A |
| | |
| --- | --- |
| Hatch Time | 720 minutes (12 hrs) |
| Baby Energy | 90 |
| Adult Energy | 110 |

Lovigis is a companion that was available during the Valentine's Day 2017 Event.
Obtaining
Edit
During the Valentine's Day event, player's could recieve Lovigis by giving Leiftan five chocolates after collecting all the outfit items from Nevra, Ezarel, and Valkyon.
Food & Bait
Edit
They eat Love Candies (30 Maana/5 Gold). They cannot be captured in the wild.
Energy & Hatching
Edit
They take 720 minutes to hatch.
A baby Lovigis has 90 energy.
An adult Lovigis has 110 energy. 
Evolution Requirements
Edit
Have reached level 10
Have an Affection Level of at least 85%
Must be at least 35 days old
Ad blocker interference detected!
Wikia is a free-to-use site that makes money from advertising. We have a modified experience for viewers using ad blockers

Wikia is not accessible if you've made further modifications. Remove the custom ad blocker rule(s) and the page will load as expected.