Melomantha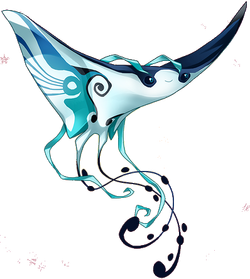 | | |
| --- | --- |
| Rarity | Event/Legendary |
| Average Luck | 332 |
| | |
| --- | --- |
| Food | Melody in a Flask |
| Bait | N/A |
| | |
| --- | --- |
| Hatch Time | 720mins (12hrs) |
| Baby Energy | 110 |
| Adult Energy | 150 |

Melomantha is a companion that was available during the International Music Day 2017 Event.
Obtaining
Edit
Melomantha could be received by completing all of the objectives given by King Poulpataking IV.
Food & Bait
Edit
They eat Melody in a Flask and they do not have a bait.
Energy & Hatching
Edit
The egg hatches in 720 minutes. The energy as a baby is 110 which increases to 150 as an adult.
Evolution Requirements
Edit
Have reached level 10
Have an Affection Level of at least 85%
Must be at least 40 days old
Ad blocker interference detected!
Wikia is a free-to-use site that makes money from advertising. We have a modified experience for viewers using ad blockers

Wikia is not accessible if you've made further modifications. Remove the custom ad blocker rule(s) and the page will load as expected.