Plumobec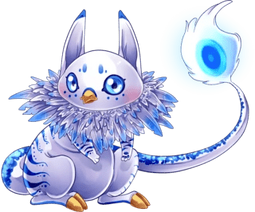 | | |
| --- | --- |
| Rarity | Rare |
| Average Luck | 102 |
| | |
| --- | --- |
| Food | Creamy Caterpillar |
| Bait | Feather Duster |
| | |
| --- | --- |
| Hatch Time | 90mins |
| Baby Energy | 50 |
| Adult Energy | 120 |

These creatures collect feathers, those with the most dominate the others.
Obtaining
Edit
Found via exploration at Western Plain and Eastern Plain (City of El Map)
Can be purchased on the market
The correct bait is required to successfully capture one (see below).
Food & Bait
Edit
They eat Creamy Caterpillars. They can be captured in the wild using the Feather Duster.
Energy & Hatching
Edit
The egg hatches in 90 minutes. The energy as a baby is 50 which goes to 120 as an adult.
Evolution Requirements
Edit
Have reached level 5.
Have a Level of Affection of at least 70%.
Must be at least 15 days old.
Ad blocker interference detected!
Wikia is a free-to-use site that makes money from advertising. We have a modified experience for viewers using ad blockers

Wikia is not accessible if you've made further modifications. Remove the custom ad blocker rule(s) and the page will load as expected.