Valuret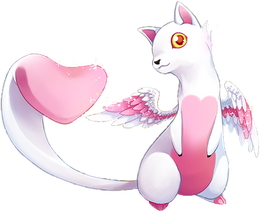 | | |
| --- | --- |
| Rarity | Event/Legendary |
| Average Luck | 332 |
| | |
| --- | --- |
| Hatch Time | 240min (4hr) |
| Baby Energy | 75 |
| Adult Energy | 100 |

A legendary companion, the Valuret is extremely rare and only appears every 333 years. Very affectionate, it connects very quickly to its owner and brings it luck and prosperity.
Obtaining
Edit
They could be obtained during the Valentines 2015 event on the French site.
Food & Bait
Edit
They eat Love Candies. They could be captured with the Glittering Ring.
Energy & Hatching
Edit
The egg hatches in 240 minutes. The baby has 75 energy which increases to 100 as an adult.
Evolution Requirements
Edit
Have reached level 7
Have an Affection Level of at least 85%
Most be at least 40 days old
Valuret was one of the companions shown on the site while preregistration was being offered.
Ad blocker interference detected!
Wikia is a free-to-use site that makes money from advertising. We have a modified experience for viewers using ad blockers

Wikia is not accessible if you've made further modifications. Remove the custom ad blocker rule(s) and the page will load as expected.